Hi, Chubbs here.
I may have mentioned it before, but dog food is a subject very dear to my heart.
Last post I told you of our plans to switch to a raw diet.  We researched what the best foods for a dog of my experience (I'm not old!) would be and found that even the best kibbles fell far short of providing me with the nutrition that I need.
We settled upon mixing our own food to bring the most benefit to my brothers and I.  The raw diet seemed to best ensure the nutrients, enzymes and all other good stuff that is packed into the food remains.
Another Direction
Life gets in the way, though, and circumstance has delayed our switch to homemade cuisine.
We looked into the alternatives.  It turns out that there are some companies out there that do have my best interests in mind and make raw or "gently cooked" pet foods that more closely mimic our natural diets.
Raw Dog Food
We looked at Darwin's Natural Pet Products and were impressed with their ingredients, knowledge and products.  I think that in the future we may use them in a pinch, but I found no local outlet nearby and so convenience changed up our plans a bit.
Gently Cooked
We found a product in local stores, in a refrigerated cabinet, FreshPet dog food.  Rhonda, Ron's better half picked up a loaf of their gently cooked dog food for me to try.
I loved it.  It is much more tasty than the old dry food; even though we mixed in canned food and added some water, kibble was still just kibble.
My little brothers and I  have been eating the FreshPet for about a week and a half now and I am already feeling the difference.  (Murphy won't eat it, but then he is pretty high-strung anyway, if you ask me)
Quick Results
In fact I had the energy to climb onto the pillow-top bed without too much help yesterday.  I haven't had the inclination to try that for about a month or better.  It just looked like too much effort.  It looks doable again.
We plan to mix our own food eventually, when things settle down around here.  For the time being I think we have found an affordable alternative to get us through until we create a list of recipes and begin to mix our own.
I do know that I am through with the grain fillers that are in so much of the commercially prepared foods.  That, combined with the lack of nutrients and enzymes is likely the reason for most of the ailments that are assailing me over the past couple of years.
Ready to Walk
The cumulative effect of that diet has me overweight (just a bit) and out of energy but after getting back onto my glucosamine/chondroitin treats for my joints and eating the new food for a week, I am feeling like going for walks again.
The food that I have been eating comes in refrigerated  six pound loaves.  You then cut off the measured portions to feed your pet.  Ron uses the same knife to cut it up into smaller pieces and adds a bit of warm water to remove the chill.  Even the mutants (notorious picky eaters) dig right in.
And their energy has gone from a high level to off the charts.
It is amazing what a good meal can do for your outlook on life.  Food has always been quite important to me and this feels like I am eating gourmet.
Natural Ingredients
They have a complete line of natural dog and cat foods in Beef, chicken, turkey, and salmon alone and in combination.  It is also has great stuff like spinach, blueberries, broccoli, and more.  You can learn more here.  This is Chubb's recommended.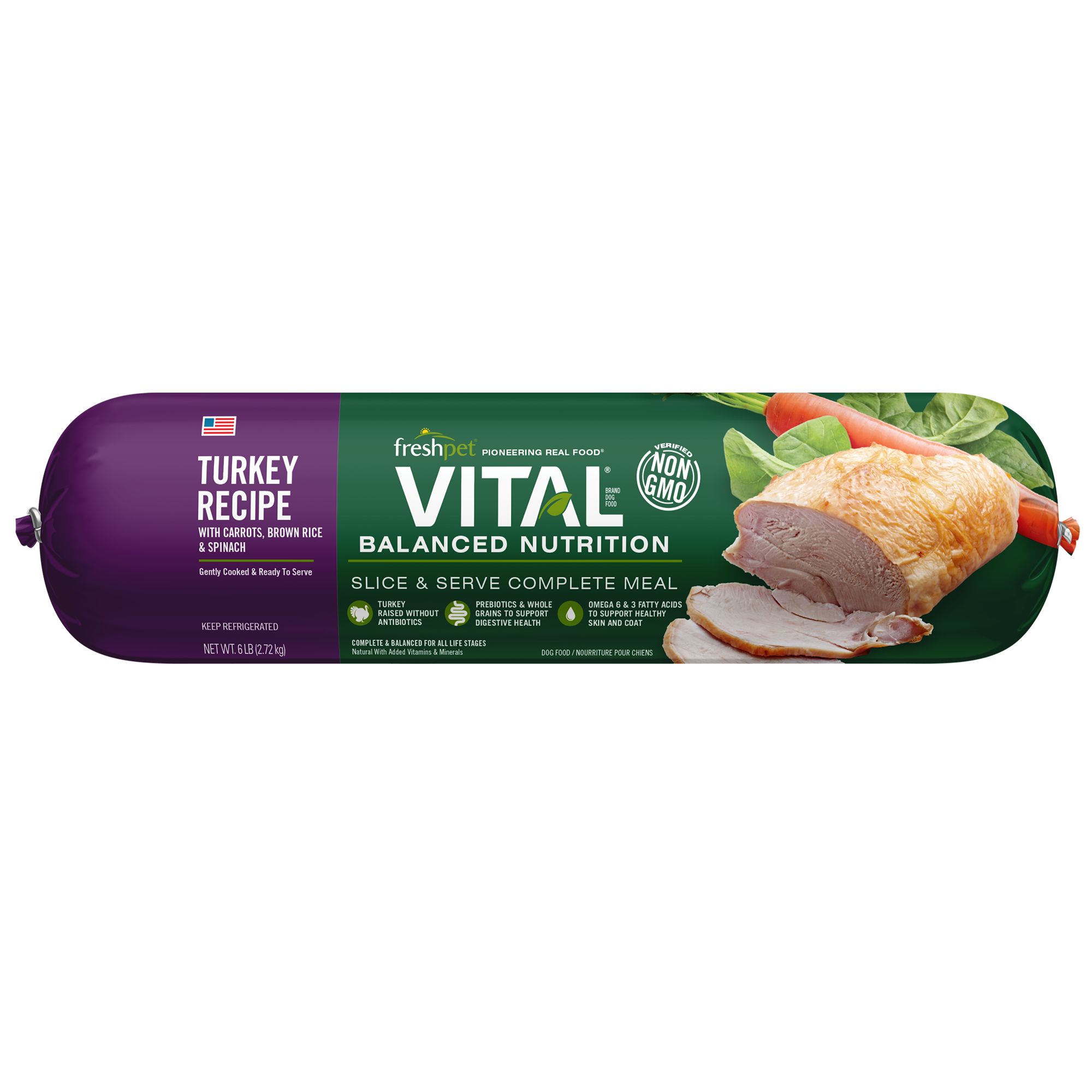 Ron and I will be sharing more as we see more improvement.  I will also share our search for a natural replacement for the prescription rimadyl that I am taking for the inflammation in my joints.  We have ordered some curcumin chews that should arrive any day now.  Curcumin is the active ingredient in turmeric.  I will let you know how it goes.
More To Come
Remember, always check with your vet if your pet is on prescription medication to make sure that there is no negative reaction.
Until next time, keep those tails wagging.